Train with us and get the necessary skills needed to become a Medication Aide.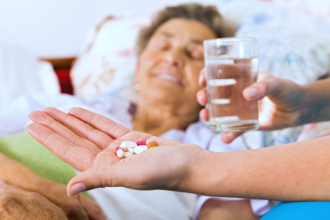 Medication Aides are responsible for assisting registered nurses or licensed nurses in providing care for clients. Their duties include administering prescribed medications and completing delegated nursing tasks that are allowed by the state law. The possible job placement for medication aides are in skilled nursing homes, assisted living facilities, hospitals, and residential settings, among others.
New Grace Academy of Medical Professionals provides a medication aide program to equip students on the necessary skills needed to safely, accurately, and legally administer medication to the patients. We also train our students on how to properly execute related duties and tasks in various healthcare settings.
Basic Skills:
This program involves classroom and lab training to educate our students on basic pharmacology, safe medication management, medication names, side effects of medications, possible medication interactions, and more.
Job Placement:
Nursing Homes, Assisted Living Facilities, Home Health Care
Certification:
Upon successful completion of our program, our students shall be qualified to register for a certification examination approved and given by the New Jersey Department of Health (NJDOH) or the New Jersey Department of Nursing that governs medication aides.
For enrollment-related inquiries, please get in touch with us at 862-520-3990 or 862-520-3577.